Today is Trans Day of Visibility. It stands as a reminder that the transgender community is and always has been with us – our neighbors, our students and our teachers, our public safety officials, our parishioners, our medical professionals, our soldiers, and increasingly, our leaders. It's a day to shine light on a community who's oppression often stems from invisibility – invisibility in our criminal justice system, invisibility in public support services, invisibility in the media and entertainment.
So today is a day to provide visibility, to lift up voices and faces and stories of our transgender neighbors, not just for being transgender – not just for revealing the cracks in our long held belief systems regarding gender and sexual identity – but also to provide visibility to all as who they are.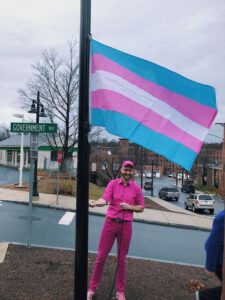 As the owner of an LGBTQ+ establishment, I have had the privilege of working with an amazing crew, many of whom happen to be transgender, gender non-conforming or non-binary. They are amazing in so many ways – their work ethic, their compassion, their talents – from the kitchen to the stage. This experience gives me a daily affirmation of what days like Trans Day of Visibility are meant to do – to see, to listen, to understand, and to make space for the trans community. Not just to lift up the causes of trans folks – but to unleash that whole human potential we all have that systematic forms of oppression can conceal.
By the same token, I've thought a lot about the leaders of the trans rights movement. As with every social movement, it falls on the backs of the oppressed to both assert themselves – and their humanity – and also to become activists and organizers themselves. As I see it, the goal of many a social emancipation movement is not to train people to become activists, to have to constantly live on soap boxes and in protest. The goal is to extend the privilege of freedoms to all. So for those who don't identify as transgender, for those who have not been confronted with ways their own self and identity is set at odds with the expectations placed on them by family, the church, their government, and society – it is time to show up. It is time to relieve your trans friends of their constant vigilance and activism so they may share in the same privilege of freedom. It's time to see them and stand with them and fight for them.
I'm a #ProudTransAlly and I pledge to fight for and provide unwavering commitment, support, and activism on all levels – in our community, at the state level, and by putting pressure on the federal level. I will write post-cards and call legislators – that's one part of this pledge – but I also pledge to see the trans community as my community, as our community, in all aspects of life.