I'm proud to have the support and endorsement of so many leaders, activists, and community members that are ready to lift up all communities of NH.

Endorsement video with Senator David Watters, NH State Senator, District 4 (Dover, Rochester, Rollinsford, Somersworth)
Endorsement video with The Honorable Amelia Keane, Former NH State Representative & Former President of New Hampshire Young Dems
And all of these Proud Townies:
Senator David Watters NH State Senator District 4 (Barrington, Dover, Rollinsford, Somersworth)
The Honorable Amelia Keane Former NH State Representative; Past President, New Hampshire Young Democrats
Jackie Cilley, Former NH State Senator, NH State Representative, NH Gubernatorial Candidate
Representative Ed Butler, NH State Representative
Representative Manny Espitia, NH State Representative
Representative Sam Fox, NH State Representative
Representative Sherry Frost, NH State Representative
Representative Greg Indruk, NH State Representative
Representative Cam Kenney, NH State Representative
Representative Nicole Klein, NH State Representative
Representative Cassie Levesque, NH State Representative
Representative Cecilia Rich, NH State Representative
Representative Tim Smith, NH State Representative
Representative Matt Wilhelm, NH State Representative
The Honorable Isaac Epstein, Former NH State Representative; President, Tri-City Young Democrats
Councilor Palana Belken, Rochester City Councilor
Councilor Crystal Paradis, Somersworth City Councilor
Matt Newland, NH Labor leader
Megan Arsenault, Concord
Mary Boisse, Somersworth
Emma Bovill, Repro Freedom Activist
Vicky Bram
Dakota Britton-Barrows, Dover
Melanie Burger, Dover
Billy Butler, Somersworth
Carlos Cardona, Laconia Dems Chair & LGBTQ+ Activist
James Costigan, Trans Activist Rochester
Kim Cummings, Somersworth
Maddie DeSantis, Somersworth
Geoffrey DiBello
Simone Dubay
Sarah Duclos, Barrington
Susan Esthera, Founder, Outreach Events
Eric Feldbaum
Rita Fluxx, Drag Performer
Maggie Fogarty, Immigration Rights Activist
Kenny Frasch, Business Owner
Pati Frew-Waters
Lauren Garza, Dover
Charles George
Jessica Goff
Paul Goodwin, Somersworth
Sean Haney
Brianna Hertig
Krystal Hicks, Portsmouth (Small Business Coalition Chair)
Kat Howland
Mallory Hubbard, Dover
Linds Jakows, Activist, Freedom NH
Lynette Jones
Aislinn Kalob, Dover
Chloé LaCassé, Educator/Activist
Jas LaFond, Social Justice Activist
Angie Lane, Concord
Annie LeBlanc, Somersworth
Emmett LeBlanc, Trans Rights Activist
Brian Lee
Liam Magan
Tara Mahady
Alix Martin
Leslie Martin
Gabriel Mata
Kelso McNaught, Queer Bookseller
Amy Michael
Jenn Miller
Li Monade, Teen Drag Performer
Matt Mooshian, Rural Outright Founder
Heather Morgan
Caitlin Murphy
Alison Murphy, LGBTQ+ Activist
Ariel Oxaal, Dover, Candidate for State Rep.
Crystal Paradis, Somersworth City Councilor
Jes Paradis, Somersworth
Erica Plante
Stefanie Polychronis
Jennifer Santos
John Shea, Educator + Education Activist
Gemma Soldati, Somersworth
Peter Starkey, Keene (Keene Coalition Chair)
D'Artagnan Stein
Bob Stein, Concord
Raya Sunshine, Teen Drag Performer
Veronika T, Teen Drag Performer
Emily Tressa (Fishbaugh), Trans Youth Activist
Jesselyn Viam, Teen Drag Performer
Steph Whitehouse, Dover
Brett Wintersteen
Beth Wood
Tri-City Indonesian Community Leaders for Emmett
Reverend Sandra Pontoh, Immigration rights activist
Raude Raychel, President, Indonesian Community Connection (ICC)
Dr. Titin Atmadja
Arel Soputan
Tommi Hadi
Pastor Jelti Pendeta
Tommy Monareh
Onky Kaunang
Eke Toar
Lendy Parengkuan
Tonny Nugroho
Irene Ireeuw
Vivi Hitiaubesy
Pastor Michael Lapian
Deiby Lapian
Scott South
Ardina Henny South
Meeta Patiasina
Harry Thenderz
Markus Subroto
Tamara Tasya
Didi Tewuh William
Susi William
Erna Wati William
Irving Mangindaan
Erna Horton
Alexander Wibowo
Keke Mangindaan
Katherine Watimena
Eddy Watimena
Monique Hayes
Orchie Saunders
Mien Maliombo
Arnold Maliombo
Photos from Malam Bersama Emmett Soldati – Calon Dewan Gubernur New Hampshire (English Translation: Indo Night with Emmett Soldati)
Photo from #ProudTownie launch party 2/19/20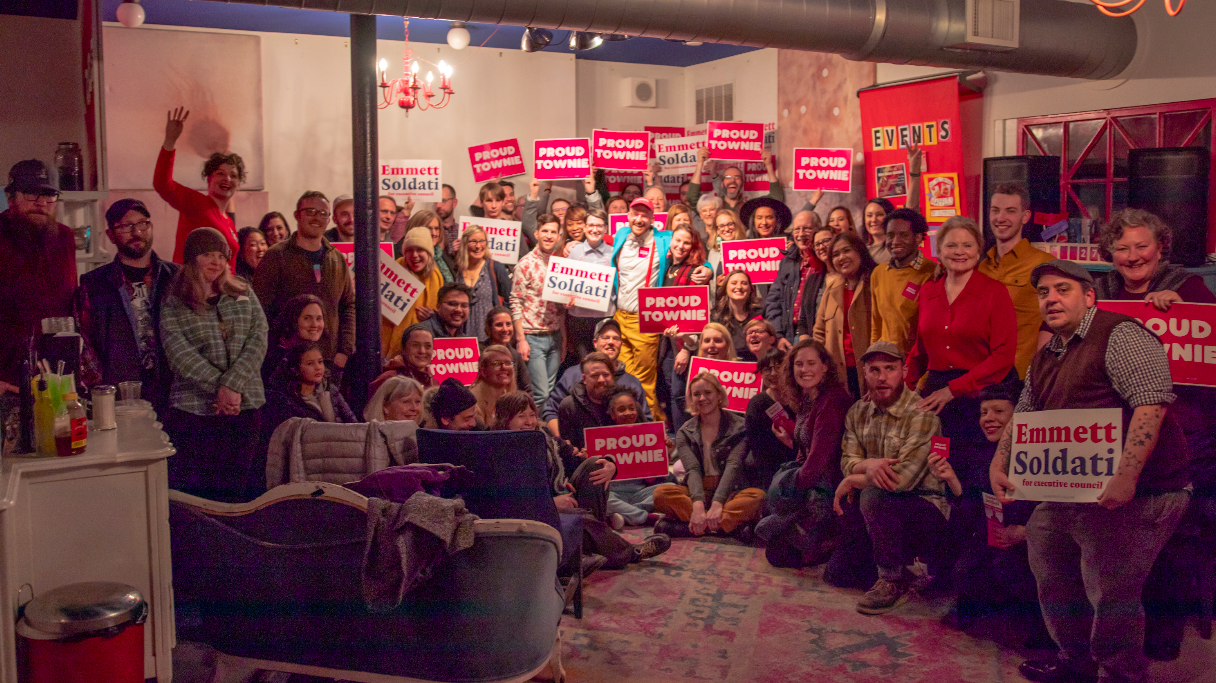 Born (1988) and raised in Somersworth, NH, Emmett Soldati graduated from the Masters School in Dobbs Ferry, NY; attended Emerson College; and graduated from York University, Toronto (summa cum laude), before receiving his Masters in Cultural Studies from London School of Economics (2011).
Returning home in 2011, Soldati opened Teatotaller; while also working for an international weather data company, Weather Analytics, now Athenium Analytics, a DC-based firm with a large work force in Dover. As an off-shoot of that, Soldati also works for an international nonprofit, Farmers First Africa, to support climate knowledge and food security for subsistence farmers.
He is the son of Lincoln Soldati, former: Strafford County Attorney, Mayor of Somersworth and candidate for US Congress; and Kathleen Soldati, former: Executive Director of League of NH Craftsmen and Portsmouth Historical Society, Director of Marketing at The Music Hall, now with CrossCurrent Communications.